VIDEOS
Eli Singer Talks about Jethro
Jethro solves the inherent latency problems of Hadoop and delivers business users an interactive BI experience.
The Era of Big Data
Jethro eliminates the need for data engineering workarounds. Achieve real-time query response times with a live data connection.
Connect with Another User
We use a Cloudera CDH5 cluster and a Jethro server configured to connect to the Hadoop cluster as a different user.
Connect Tableau to Jethro
Learn how to connect Tableau to Jethro and create your dashboards quickly and easily.
Make Qlik Work on Hadoop
Learn why Hadoop wasn't designed for business analytics and how to overcome this shortfall.
Connect Jethro to MapR
We discuss connecting Jethro to MapR using their interface, as if it was a local file system.
Jethro & Symphony Health
You'll learn about Symphony's BI applications and how Jethro transparently accelerates performance at scale at a fraction of the cost.
Jethro Manager
See how easy it is to create an instance in Jethro and load 10 million rows of TPC. Next, we show you how to connect to Tableau and begin your BI analysis.
Fastest BI on Hadoop
Query Hadoop directly from Tableau, Qlik, Microstrategy and almost all other BI tools. Interactively analyze your big data from the source
WEBINARS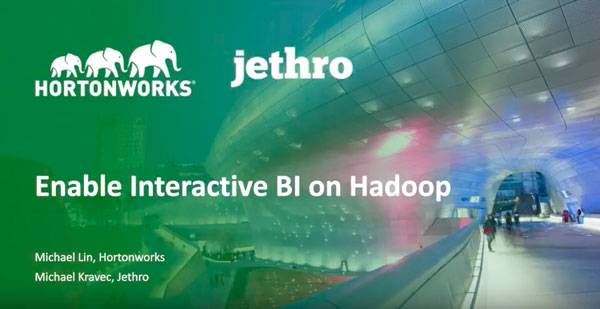 Modern BI on Hortonworks Data Platform
A comprehensive data platform that responds to BI queries at interactive speeds.
WATCH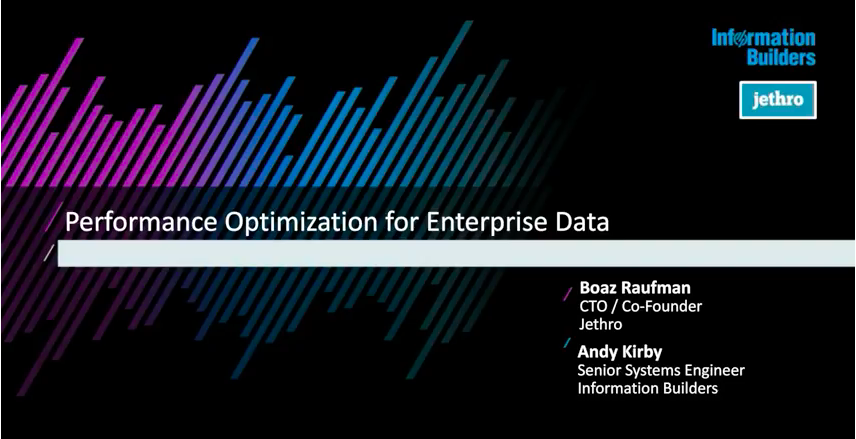 Performance Optimization for Enterprise Data
Scaling your BI applications to thousands of concurrent users with the right architecture.
WATCH
Tableau on Hadoop with Aunalytics Webinar
Data Realty (now Aunalytics) leverages Jethro and Tableau to deliver users healthcare insights lightning fast.
Business Intelligence Engine for Big Data
Learn how indexes, cubes and cache work in tandem to deliver interactive BI at any scale.
WHITE PAPERS
Accelerating Business Intelligence on Big Data
Full indexing and auto cubes work together to answer all query types.
DOWNLOAD
Making Fast Interactive BI on Hadoop a Reality
The technology on how to achieve a truly interactive response time.
DOWNLOAD
Tableau and Jethro Best Practices
Learn how to make VizQL work in the best way possible with Jethro.
DOWNLOAD
DATASHEETS
Jethro Overview
Customers use Jethro to deliver Interactive BI service at attractive Hadoop costs, while supporting all SQL queries.
DOWNLOAD
Jethro for Qlik
Jethro for Qlik enables using SQL- on-Hadoop to gain near real-time access to big data with QlikView® and Qlik® Sense.
DOWNLOAD
Jethro for Tableau
Customers use Jethro to accelerate Tableau to deliver Interactive BI service while live connected to big data.
DOWNLOAD