Jethro works closely with BI front-end vendors and Hadoop distributers to provide our customers a well-integrated BI solution. We focus on your application - we work with our partners to make sure that all its components work well together and deliver the performance and the service your users expect.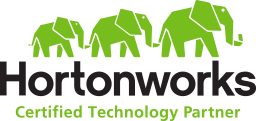 Hortonworks is a leading innovator in the industry, creating, distributing and supporting enterprise-ready open data platforms and modern data applications.
---
Cloudera, the leader in Apache Hadoop-based software, services and training, enables data driven enterprises to easily derive business value from all their structured and unstructured data.
---

Information Builders provides solutions for business intelligence (BI), analytics, data integration, and data quality that help drive performance improvements, innovation, and value.
---

MapR delivers on the promise of Hadoop with a proven, enterprise-grade platform that supports a broad set of mission-critical and real-time production uses.
---

A pioneer in the BI and analytics space, MicroStrategy delivers innovative software that empowers people to make better decisions and transform the way they do business.
---

Qlik is a leader in data discovery delivering intuitive solutions for self-service data visualization and guided analytics to over 34,000 customers globally.
---

Tableau Software helps people see and understand data. Tableau helps anyone quickly analyze, visualize and share information.